RCS Series resistance and capacitance box – VIDEO
The IET Labs RCS-box combines the features and specifications of both the R-box and the C-box in one convenient package. Ideal for setting timers, oscillators, and filters.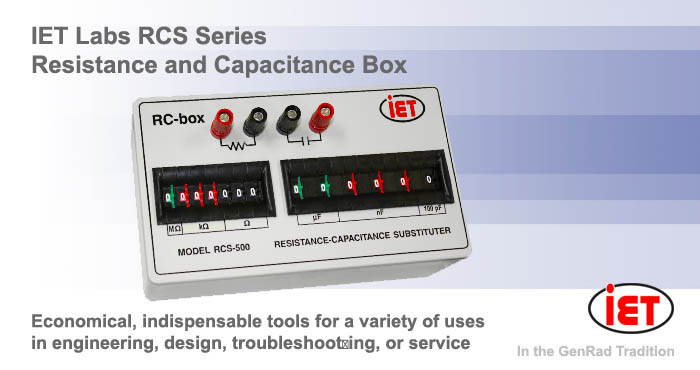 The resistance and capacitance may be used independently, in series, or in parallel.
A shorting link allows them to be coupled or separated.


Features
Combination of

r

esistance and

c

apacitance

d

eacade box

Direct reading – 

No fumbling with multiple slide or rotary switches

Standard accuracies of 1%, 0.1%, and 0.05% available.
Broad choice of standard and optional models. A full line of standard substituters satisfies most requirements.

Direct readings eliminate potential mistakes that come from rotary or slide-switch boxes.

For easy value readings, ranges are separated by color- coded switches and numbers.

The units are small, rugged, and portable.
Combination units, such as

r

esistance and

c

apacitance

substituter (RCS-500), are available.

Capacitance range 100pF - 100µF

Resistance

range 1Ω - 10MΩ