HPRS-HIPOT-LOAD (Fluke 5320A-load hipot replacement) – Hipot current calibration load resistors
The IET Labs HPRS-Hipot-load is an excellent replacement for the Fluke 5320A-load hipot current calibration load resistors.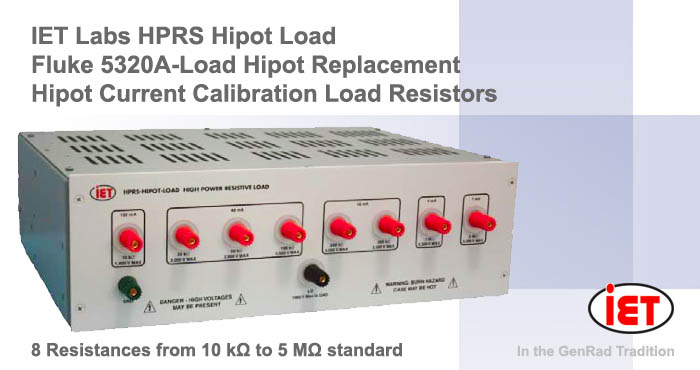 The IET Labs high power resistive load can be used with the Fluke 5320A multifunction electrical tester, calibrator or standalone.
It provides a high power and high voltage load to various hipot tester to create the leakage current needed to calibrate various manufactures hipot testers.
Features
8 Resistances from 10kΩ to 5MΩ standard

Standard accuracy: ±10% at 23°C

Power rating : up to 300W at 100kΩ

Voltage rating: 1,400 to 5,500V depending upon resistance value

Continuous operation at rated power

Kel-F washers on all terminals for low leakage current and high dielectric strength

Custom

v

alues

a

vailable