IET / QuadTech 1910 / 1920 1MHz LCR meter
The IET Labs 1920 1MHz LCR meter is the most popular and designed to perform capacitance and impedance measurements on a variety of electronic components and materials over a frequency range from 20Hz to 1MHz.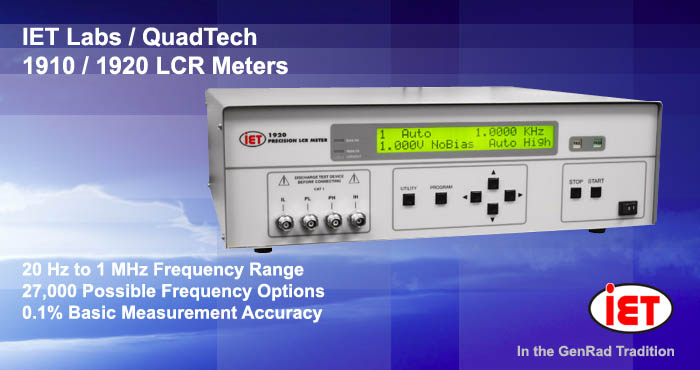 The1920 features programmable bias voltage from 1mV to 2V for biasing capacitors and other semiconductor devices during measurements.
Two versions of the 1MHz precision IET Labs, QuadTech LCR meter, the 1910 and 1920
The 1910 inductance analyzer has the same feature as the 1920, with the bias voltage feature being replace by a programmable bias current of up to 1A. The bias current features makes the1910 designed to perform inductance and impedance measurements on coils and wire wound devices over a frequency range from 20Hz to 1MHz.
Features
20Hz to 1MHz Frequency

r

ange 27,000

p

ossible

f

requency

o

ptions

0.1% Basic

m

easurement

a

ccuracy

Measures 15

i

mpedance

p

arameters, DC

r

esistance,

v

oltage and

c

urrent

IEEE-488.2, RS-232, handler, and serial printer interfaces all standard

Wide

m

easurement

r

ange with 5

d

igit

m

easurement

r

esolution

Four-terminal Kelvin connections to maintain measurement integrity