OhmSOURCE resistance decade box / RTD simulator
Microprocessor-controlled and loaded with innovative features, the IET Labs OhmSOURCE programmable resistance decadeboxes succeeds in providing highly accurate and precise resistance values in an intuitive and user-friendly fashion.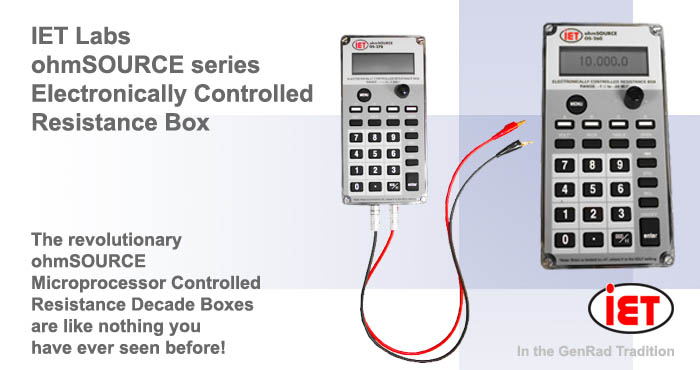 With a resistance value range of up to 24 MΩ and a power rating of up to 1 Watt, the handheld OhmSOURCE decade boxes are practical for all industries including automotive, medical, test and measurement and telecommunications.
Translation tables makes the ohmsource an ideal RTD calibrator, there is no need for operators to use conversion tables, just select temperature and the correct resistance is automatically selected.
Features
The revolutionary

O

hmSOURCE

 

m

icroprocessor

c

ontrolled

r

esistance

d

ecade boxes are like nothing you have ever seen before!

Two cost-effective models available

Accuracy's as tight as 0.01%, with resolution as good as 0.01Ω

Engineered as an ideal RTD calibrator