HACS-Z Series high accuracy decade capacitance box
The IET Labs HACS-Z series is a precision wide-range decade capacitance box. With its high quality, tight tolerance capacitors, it is an ideal solution for calibration labs. It can be used as a bench model for versatility, or it can be rack-mounted.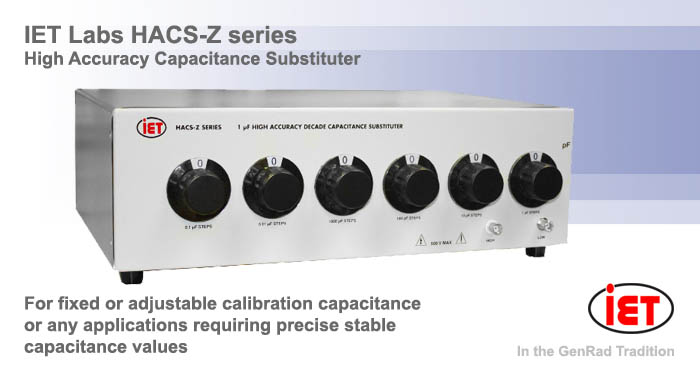 The IET Labs HACS-Z series high accuracy capacitance box is capable of meeting exacting requirements for fixed or adjustable calibration capacitance, or any applications requiring precise and stable capacitance values. You can pick the best unit for your application, without overpaying for ranges that you do not require. Models are available with a range of 1pF - 11,111μF in as few as 3 or as many as 11 decades.
Features
High accuracy: 0.05%

Low zero capacitance:

Trimmable capacitors for lower decades

3-Terminal shielded construction for low values

5-Terminal construction for high values

Excellent stability – 100ppm / year

Excellent TC - begins at 20ppm / °C