Accurate, cost effective capacitance standards – SCA series
IET Labs SC series capacitance standards – High stability cost effective capacitance standards with low temperature coefficient, low losses and a wide range of values.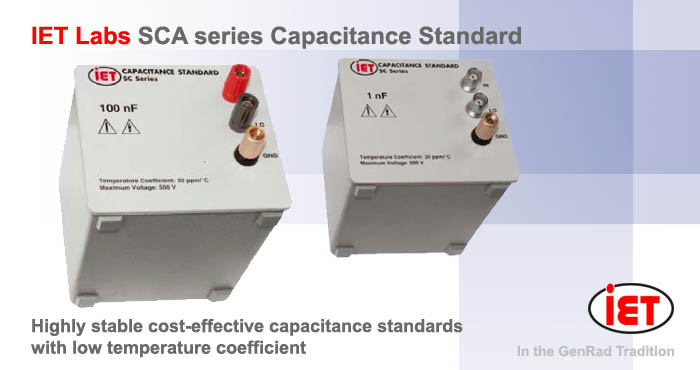 Wide range of values – 1pF to 2000µF

Excellent stability – 0.01% (100ppm) / yr

Excellent TC – as low as 10 ppm / °C

Low loss – D as low as 0.0002
Terminals
Two BNC connectors for 190pF and under;

Two 5-way binding posts for 1nF to 190nF;

Four 5-way binding posts for 1µF and over.

Case ground is also provided.
Stability
(0,01% + 0,1pF) change each year.
Dimensions
8.6cm H x 10.5cm W x 12.7cm or 1000µF: 8.6cm H x 30.5cm W x 8.92 cm.
Transit Case
Optional model SRC-100 lightweight transit case with handle, suitable for transporting and storing two units. The case provides insulation from temperature changes during transportation or calibration.
Report
NIST traceable initial calibration data provided with unit.
Capacitor type
Air capacitors for 1pF and 10pF;

Hermetically sealed silvered mica for 100pF to 100nF;

Hermetically sealed polystyrene for 10µF;

Hermetically sealed polycarbonate for ≥10µF.
Operating Temperature
10°C to 50°C.