Measurements International DC-metrology – Resistance standard – Product list
The Measurements International broad line covers resistance measurements from 1µO to 100T ohms, and voltage measurements from a few micro volts to 1200 volts DC.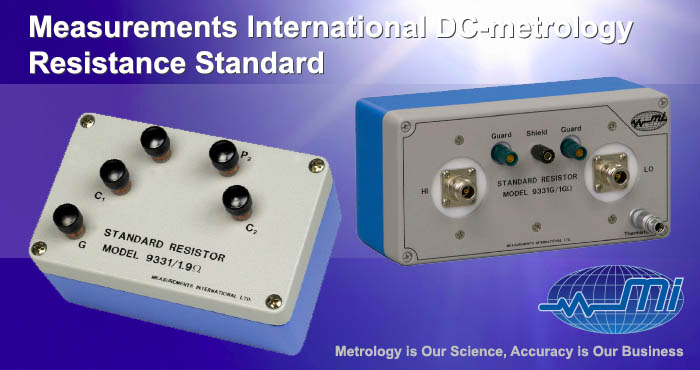 With over 15 years of experience, MI is the leading supplier of DC resistance measurement systems and DC standards around the world.
If you're visiting us from a national laboratory, nuclear laboratory, calibration laboratory, aerospace, telecommunications, semiconductor, electrical, or the pharmaceutical industry take a moment to review our DC metrology line, and put our accuracy, stability and reliability to measure for your organization.
Product selection
4310 – Temperature stabilized resistance standard – 10 element (0.1Ω to 100MΩ)
More products
9210A-1 (PRIMARY) – 1Ω Resistor with carrying case

9210A-0.1 (PRIMARY) – 0.1Ω Resistor with carrying case

9210B (PRIMARY) – Decade values 1Ω, 10Ω, 100Ω, 1KΩ, 10KΩ, 100KΩ with optional carrying case

9331R (PRIMARY) – Series of four terminal air resistors from 1Ω to 100kΩ with optional carrying case

9331 (SECONDARY) – Series of four terminal air resistors from 1mΩ to 100MΩ with optional carrying case

9331G (PRIMARY) – Series of primary high value 2 terminal resistors from100M to 100T with optional

9332 series – High current resistors from 10A to 3000A with optional air moving fans

9155 series – High value resistors from 10MΩ to 10TΩ

4304 – Temperature controlled 4 element traveling resistance standard

4310HR – Temperature stabilized high resistance standard – 4 to 6 elements