Measurements International Inc. success stories
Measurements International was founded in 1987 as a company with expertise in the science and engineering-intensive electrical metrology segment of the Test and Measurement Industry.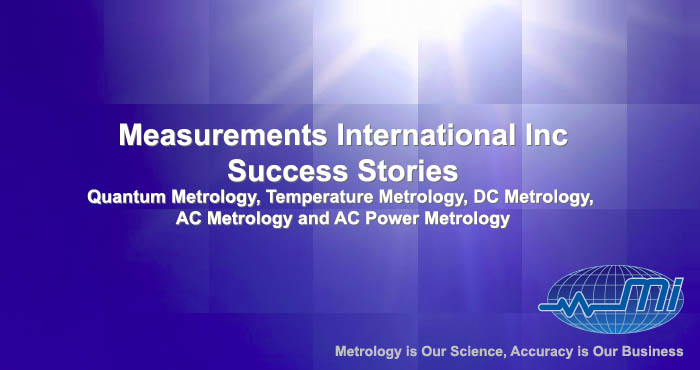 Over the years Measurements International has become a recognized global leader in the industry through active participation and contribution to the industry through industry organizations like NIST and NCSL.
Quantum Metrology Line
Even the best wire-wound resistors maintained in the most stable of conditions drift with time, and sometimes shows inexplicable step changes in value.
With the introduction of the MI Model 6800 QUANTohm (QHR) as the representation of the ohm, previously unattainable levels of repeatability and stability can now be achieved in your resistance metrology program to < 0.02 ppm. 
Temperature Metrology Line
Measurements International is a manufacturer of a series of very low temperature coefficient, precision, stable resistors to provide stability and traceability for your temperature calibrations.
MI has also become the world's leader in the supply of DC Comparator Technology Bridges for Resistance Thermometry applications. 
DC Metrology Line
With over 15 years of experience, MI is the leading supplier of DC Resistance Measurement Systems and DC Standards around the world.
Our broad line covers resistance measurements from 1µO to 100T ohms, and voltage measurements from a few micro volts to 1200 volts DC.
AC Metrology & AC Power Metrology Lines
The measurement of electrical power and energy at high voltages and low power factors is becoming increasingly important as a way to reduce costs in an ever-growing industrial economy.
A more precise means for scaling these voltages and currents down to usable levels is required.
MI References
514 Institute China orders QHR System

US Air Force

Waukesha Electric Systems

NIST

Lockheed Martin

PTB - Physikalisch-Technische Bundesanstalt

NMi - Institute for metrology and technology, Netherlands

Quantum Hall Resistance System in India 
If your future requirements include state of the art technology with complete product support, contact our representatives.