DE-6000 Handheld LCR meter
DE 6000 LCR meter features automatic L-C-R selection, a Sorting mode, and selectable test frequencies. Wide range of test frequencies: 100 Hz / 120 Hz / 1 kHz / 10 kHz / 100 kHz.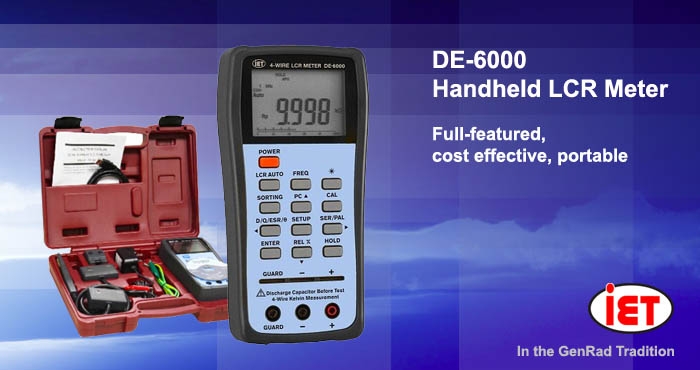 Full-featured, portable LCR meter 
The DE 6000 is a portable, high- performance LCR meter that is full-featured yet cost effective. It measures in true 4-wire Kelvin mode and rivals the capabilities and options of many of its bench counterparts.
The DE 6000 measures

Ls/Lp - Series and parallel inductance


Cs/Cp - Series and parallel capacitance


Rs/Rp - Series and parallel resistance (ac)


Rdc/Rp - Series and parallel resistance (dc)


ESR/Rp - Series and parallel equivalent resistance


D - Dissipation factor


Q - Quality factor


Θ - Phase angle
Features

4-wire measurement

Automatic L-C-R selection

Component sorting function with selectable PASS/FAIL tolerances

Selectable test frequencies: 100Hz / 120Hz / 1kHz / 10kHz / 100kHz


Selectable test model: series or parallel


Backlit, 20,000/2,000 count display

Relative mode


Low-batiery indicator


USB interface
Parameters measured
Ls / Lp / Cs / Cp / Rs / Rp / DCR with D/Q/Θ/ESR measurement 

Automatic L-C-R selection
DE 6000 standard package
LCR meter


Carrying case


Alligator-clip test-lead adapter (4-wire joined at alligator clips)

Guard lead


Standard 9 V battery


nstruction manual
Optional accessories
AC adapter


SMD tweezers (4-wire)

Data transfer kit

IR to USB Interface Adapter,

USB cable


CD with software for PC