GenRad 1659 digibridge
The IET Labs, GenRad 1659 digibridge RLC tester is an easily programmable, microprocessor-based high performance passive component tester. It automatically identifies the type of component under test and measures in the proper range.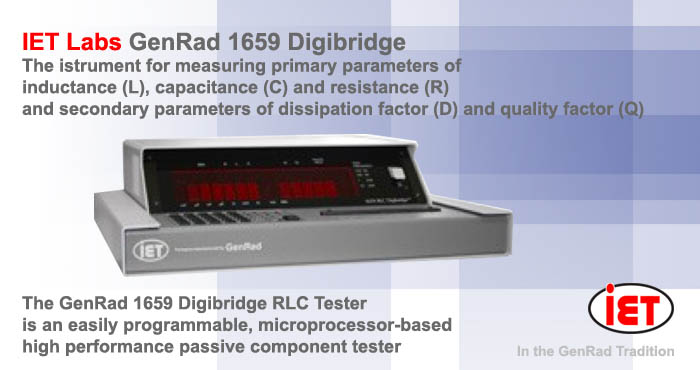 The IET Labs, GenRad 1659 RLC digibridge is an instrument for measuring primary parameters of inductance (L), capacitance (C) and resistance (R) and secondary parameters of dissipation factor (D) and quality factor (Q).
GenRad designed this single compact unit with maximum flexibility and operator convenience in mind.
The simple front panel design of the Digibridge requires less effort to operate.
Digital display and user friendly control allows test parameters and limits to be set easily.
Features
0.1% Measurement accuracy

4 Test frequencies 100Hz to 10kHz

5 Impedance parameters

Built-in

t

est

fixture