Decade inductor – Product list
IET Labs manufactures a full line of inductance decade boxes that will meet any need. Whatever your application, IET Labs has a decade box solution.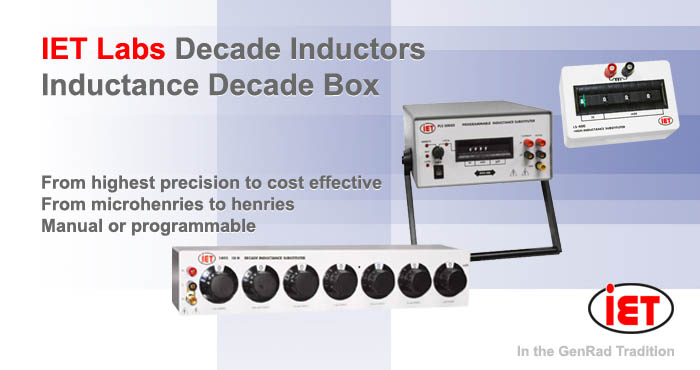 IET Decade inductance boxes
Our inductance decadeboxes can be custom built to your specifications, so you do not have to pay for what you don't need.
Low cost, field grade inductance decade box – LS
General / field grade, 1% (or better) - 4%, 1μH - 100H, 1μH, economical, toolbox size
High accuracy inductance decade box – GenRad 1491
High accuracy decade, 0.8%, 100μH - 11H, 100μH, laboratory grade, high accuracy, high stability, low temperature coefficient.
Programmable inductance decade box – PLS
Programmable decade, 2% (or better) - 4%, 1μH - 100H, 1μH
IET Labs Product list
LS Series

i

nductance

d

ecade

box – VIDEO

IET Labs 1491

s

eries

d

ecade

i

nductance box

GenRad 1492 decade inductor

PLS Series

p

rogrammable

i

nductance

d

ecade

boxes